As professional siding installers and siding contractors, our goals and values are one.
As trained James Hardie installers and siding contractors, our number one priority is to properly install siding on your home, ensuring your siding warranty and protecting the beauty of your home. We take pride in our reputation as professional siding installers and how we represent the manufacturers of the products we install. The quality of our work speaks for itself, however, we have testimonials from throughout the Portland Metro area that can reflect not only the quality of our work and our attention to detail when it comes to siding installation.
We are proud to be able to say that we carry various certifications including the Tyvek Installers certification which is the vapor barrier wrap and flashing that goes between the siding and the plywood of your home that help to keep humidity and moisture away from your walls, and increases the life and value of your home by helping to prevent dry rot.
Beisa's Legacy can help you install the following siding:
As trained professional siding installers and contractors servicing the Portland Metro area, Beisa's Legacy Construction can help you install the following sidings:
Fiber Cement Siding (lap and shingles)

Cedar Siding (lap and shingles)

Wood Siding

Rock or Brick

T111 and Paneling.
Our number one seller for siding is James Hardie siding, specifically their siding with Color Plus Technology. James Hardie Siding is one of the most popular in siding products in the Pacific Northwest because of its durability and warranty. It's a great way change and update the look of your home, while giving it quality protection from the elements.
There are many things to consider when it comes to the siding you chose for your home. Beisa's Legacy Construction is happy to provide you with their expert advice.
We have a responsibility as trained siding installers and siding contractors, to not only put siding on your home, but ensure that the integrity of the framing, structure and plywood are not compromised by dry rot prior to siding installation. If you have warping or sagging siding, this most likely means that the wood behind the siding (the sheathing) has been exposed and has been damaged. Other nuisances that can occur due to water damage are allergies that are caused by mold that is caused by the water or moisture that has reached the sheathing underneath the siding. This, of course, can be fixed, and our professionally trained siding installers can make these repairs effectively and efficiently. And as residents of Portland, and having worked in SW Portland to Medford Oregon, we have experienced, firsthand, what impact the harsh weather in the Pacific Northwest can have on siding.
Does your siding need a new look?


It's fading- Siding has a tendency to fade quickly in Oregon due to the harsh weather. Vinyl has a tendency to fade quickly. Try looking at other products such as James Hardie Color Plus which comes already painted and designed to withstand the Northwest weather.
Is your Siding made of Vinyl, EIFS, Brick, LP?


Not every siding can stand up to the strong winds and freezing temperatures from the Columbia Gorge that we experience in Troutdale, Hood River and Gresham. Or the impact on siding from the rain on homes in the Willamette Valley, including Tualatin, Wilsonville and Eugene, or the heat that beats down on homes in Bend, Pendleton and Hermiston Oregon.
Vinyl is a low maintenance siding, however, it is easily damaged by our harsh weather, fades easily or warps.

EIFS siding is very rarely installed correctly. The removal of EIFS siding often exposes considerable water damage and dry rot.

Brick siding requires that there be no gaps between the plaster and the brick siding. Even a small gap can allow for considerable water damage to occur.

LP siding, which was widely used during the late 80's and early 90's, has gone under a class action lawsuit for its premature rotting. If you see your LP siding is swelling or delaminating, it needs to be replaced.
Through training and experience, our siding installers can provide expert advice on what kind of siding best suits your home.
Update your home?


Another time to consider replacing your siding, is to update the look of your home and create another layer of insulation. Installing James Hardie Siding will give you an extra layer of insulation to help with energy efficiency, noise reduction and give you the new look you are after.
James Hardie siding and trim products have shown, for the last 9 years, that it has the best return on investment. Coupled with a 30-year non-prorated warranty on the siding and trim products, you really can't lose.
Why is it important for siding to be installed properly?
Nails- Improperly placed nails can penetrate the vapor barrier and allow moisture to enter, causing considerable moisture damage.

Flashing- Flashing seals and protects joints from water penetration by directing the flow of water away from vulnerable areas. A lack of or incorrect installation of flashing around doors, windows, and other areas can be detrimental to the structure of your home.

Alignment- In order for the overall appearance of any siding to look good, it must be aligned uniformly.

Storage of siding- Most siding must be stored in dry areas. If siding gets wet and is then installed, the siding may expand/contract after being installed and become distorted and warped.
What are the benefits of installing new siding?
Add Value to your Home- If you are getting ready to sell your home, new siding can increase the value of your home.

Increase Curb Appeal- New siding on your home can improve the overall look of your home.

Sense of Security- Having siding installed properly will ensure a manufacturer warranty and protect your home from leaks and water damage.

Better Sound Insulation- Certain sidings can in fact help insulate your home and keep sound in as well as out.
We are Associate Contractor's of James Hardie Siding. James Hardie Fiber Cement Siding is a non-combustible siding that is five times thicker than typical vinyl siding. It is made to resist rotting, warping, and delamination. The durability of James Hardie siding can withstand up to 150 MPH winds and is resistant to hail damage. See details below about James Hardie Siding Products.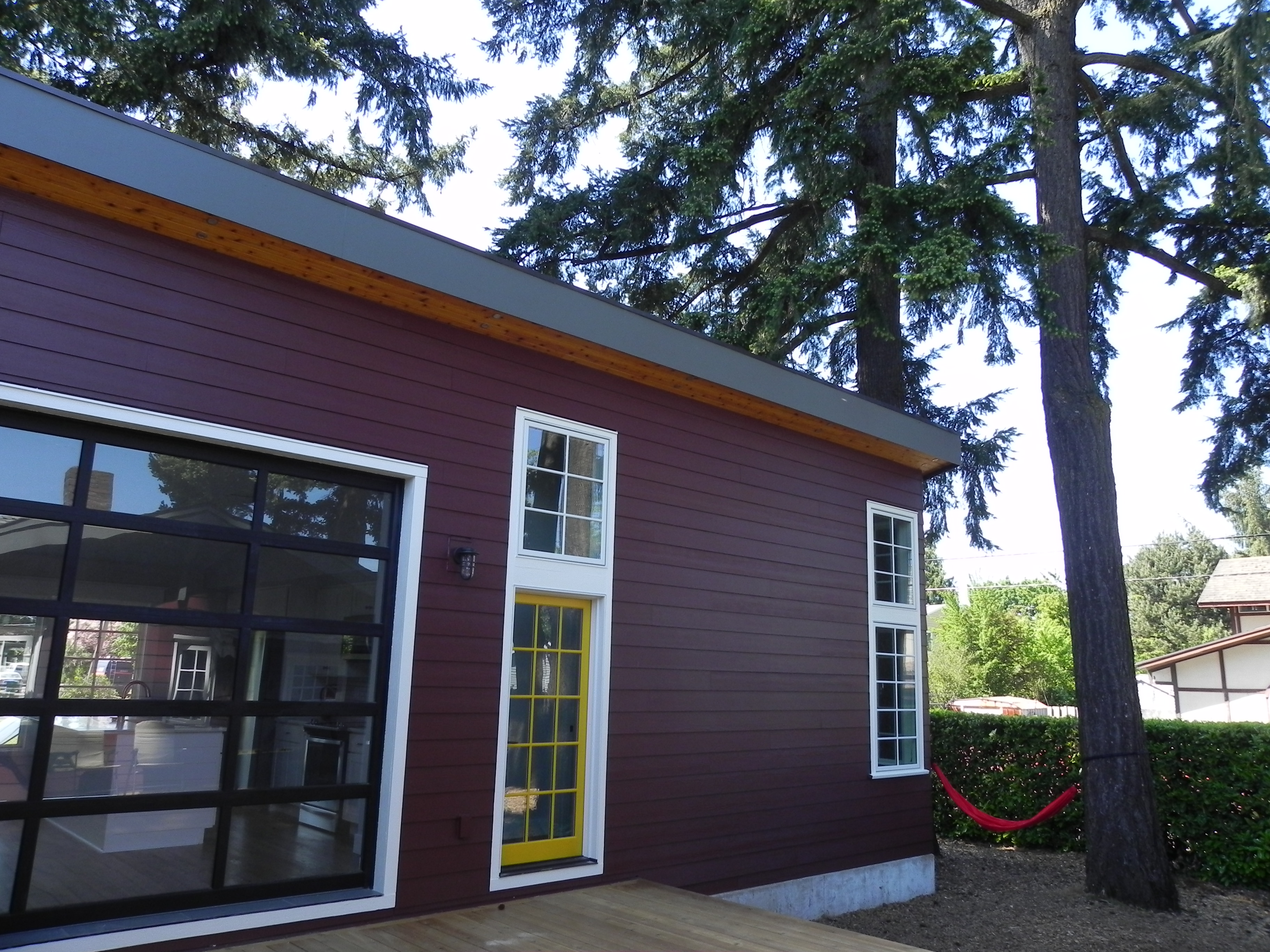 What's Underneath Your Siding?
Underneath your siding is a Weather Resistant Barrier. This is a critical part of your home's wall system. It is commonly called house wrap, paper, water or weather resistant barrier, or for short WRB. In simple terms, the WRB protects your home's walls from moisture damage such as mold and rot. There are many products to choose from. Below we have listed a few popular options in the Northwest.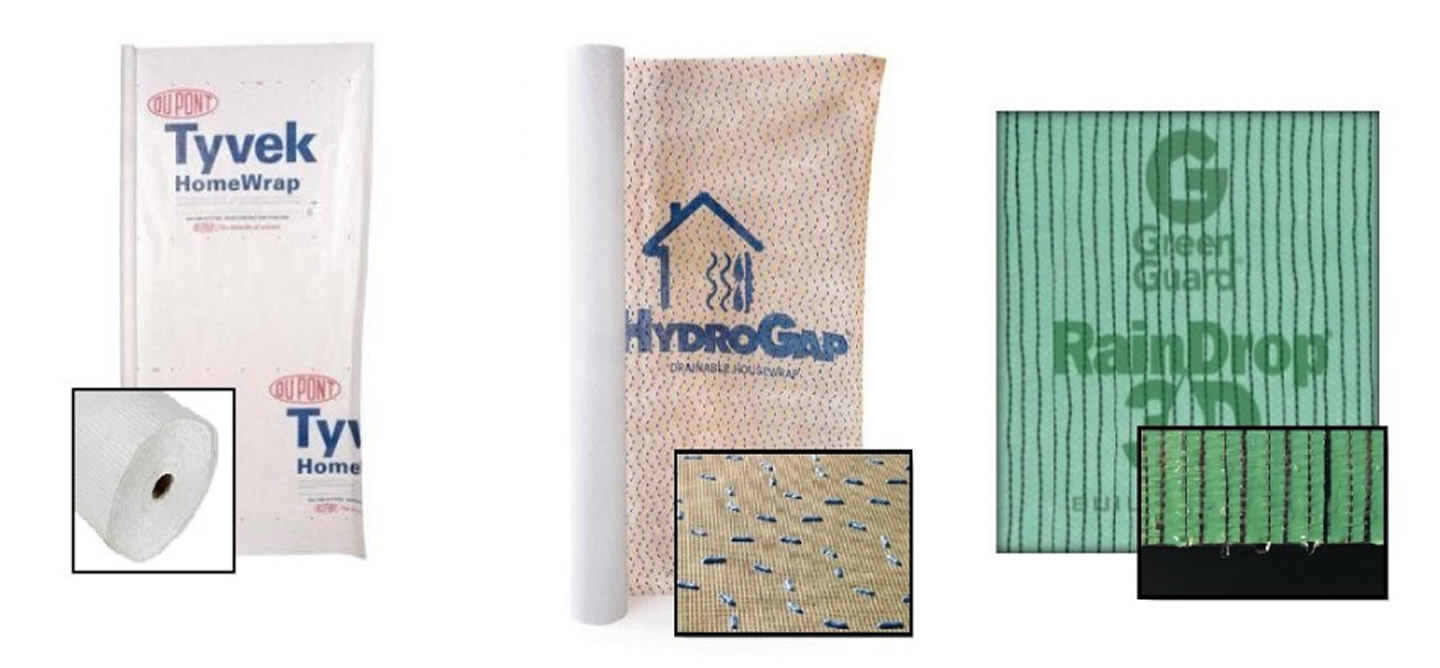 Let us be your go-to company for professional siding installation in Portland, Happy Valley, SW Portland, Lake Oswego, Beaverton, Cedar Hills, Tigard, Raleigh Hills, Burlingame, Hillsboro, Troutdale, Gresham, Boring, Sandy, Damascus, Clackamas, Milwaukie, Oregon City, Tualatin, Wilsonville, Sherwood, Newberg, Sauvie Island, or Salem Oregon. We can also provide for expert siding installation in Vancouver, Hazell Dell, Orchids, Mill Plain, Camas, Ridgefield, Longview, Battleground, Scappoose, and St. Helens Washington.