When it comes time to replace your roof, metal roofing is an attractive option. It is ideal for homes that have either a flat or steep roofline and it offers extreme durability and an incredibly long life compared to any other roofing option.
Advantages of Metal Roofing
Longevity
Depending on what material is used, metal roofs can last anywhere from 40-70 years. While asphalt shingles might the more common roofing option, it's life expectancy is only 12-20 years.
Durability
Certain metal roof can withstand wind gusts up to 140 miles per hour, without corroding or cracking. Metal roofs are also fire resistant, meaning that you will not have to worry about it igniting into flames during a wildfire or after lightning strike.
Eco-Friendly
Metal roofs are not only made from 25-95% receycled material, but are also 100% recyclable at the end of their long life as a roof. They also reflect solar radiant heat, which can reduce your cooling costs by 10-25%.

Skyline Roofing ®
Beisa's Legacy is proud to use Skyline Roofing® products, that offers easy installation, a variety of colors and a limited lifetime warrenty.
Tile
We went to great lengths to replicate the charming allure of clay, and the result is a convincing interpretation of real tile forged in steel.
SPECIFICATIONS
• Multi-layer PVDF coating system to resist weathering,
aging, rust, and pollution
• 0.019" Thickness
• 98 lbs. per square
• 16 panels per square
• Nominal Dimensions:
20-5/8" w x 48-1/4" L uninstalled
18-3/16" w x 47-1/4" L installed
• Min. Pitch: 3:12
CertainTeed metal roofing products are tested to ensure
the highest quality and comply with the following industry
standards:
Fire Resistance
• Complies with ASTM E108 Class A, Class B
(See Manufactures Technical Data Sheets for Specific
Systems)
Impact Resistance
• Complies with UL 2218, Class 4
Wind Uplift Resistance
• Warranted to 130 MPH
• UL 1897
• Wind-Driven Rain, AC166 (Sec 4.2)
Solar Reflectance
• 8 CRRC-rated colors
Quality Testing & Approval
• IAPMO Report ID: ER-375
• Texas Dept. of Insurance TDI Report RC-487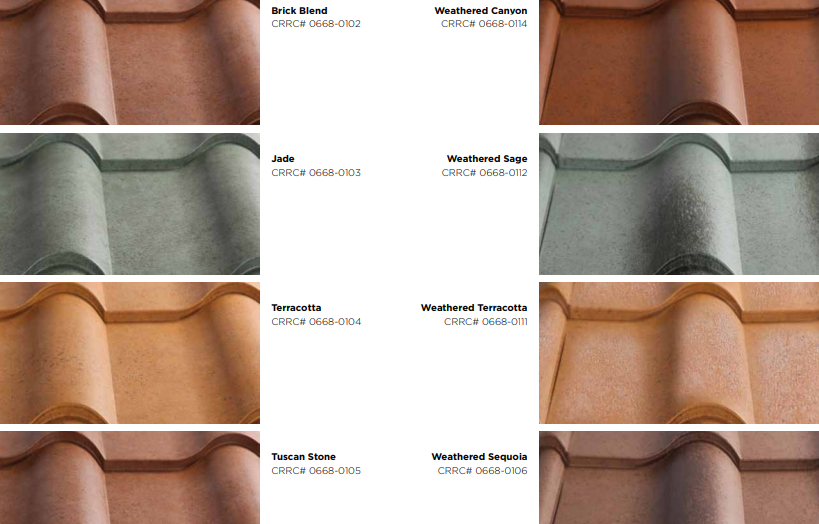 Shake
Expertly designed to capture the character of real wood, Presidio ® Shake's stylized chiseling createsan appealing texture and dimension

SPECIFICATIONS
• Multi-layer PVDF coating system to resist weathering,
aging, rust, and pollution
• 0.016" Thickness
• 96 lbs. per square
• 16 panels per square
• Nominal Dimensions:
22-1/8" w x 47-1/2" L uninstalled
20-1/2" w x 45-7/8" L installed
• Min. Pitch: 3:12
CertainTeed metal roofing products are tested to ensure
the highest quality and comply with the following industry
standards:
Fire Resistance
• Complies with ASTM E108 Class A, Class B
(See Manufactures Technical Data Sheets for Specific
Systems)
Impact Resistance
• Complies with UL 2218, Class 4
Wind Uplift Resistance
• Warranted to 130 MPH
• UL 1897
• Wind-Driven Rain, AC166 (Sec 4.2)
Solar Reflectance
• 4 CRRC-rated colors
Quality Testing & Approval
• IAPMO Report ID: ER-375
• Texas Dept. of Insurance TDI Report RC-487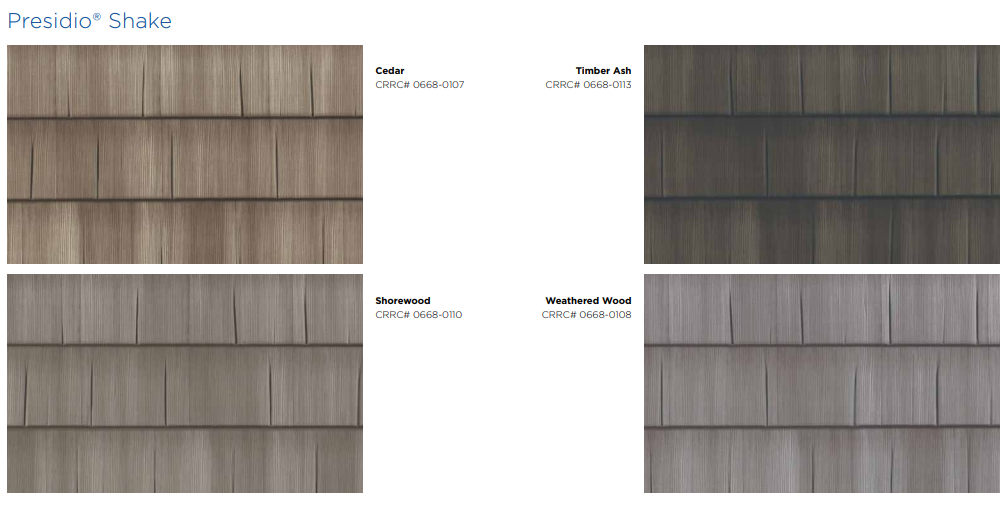 Slate
Lightweight and durable, Presidio Slate's patented paint system captures the timeless, natural beauty of mottled stone.

SPECIFICATIONS
• Multi-layer PVDF coating system to resist weathering,
aging, rust, and pollution
• 0.016" Thickness
• 96 lbs. per square
• 16 panels per square
• Nominal Dimensions:
22-1/8" w x 47-1/2" L uninstalled
20-1/2" w x 45-7/8" L installed
• Min. Pitch: 3:12
CertainTeed metal roofing products are tested to ensure
the highest quality and comply with the following
industry standards:
Fire Resistance
• Complies with ASTM E108 Class A, Class B
(See Manufactures Technical Data Sheets for Specific
Systems)
Impact Resistance
• Complies with UL 2218, Class 4
Wind Uplift Resistance
• Warranted to 130 MPH
• UL 1897
• Wind-Driven Rain, AC166 (Sec 4.2)
Solar Reflectance
• 4 CRRC-rated colors
Quality Testing & Approval
• IAPMO Report ID: ER-375
• Texas Dept. of Insurance TDI Report RC-487